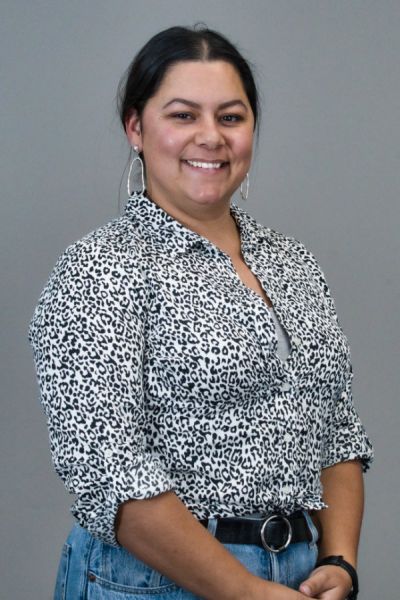 Kaley is a proud Taungurung woman, and it's her connection to Country and knowledge of the mountains that brought her to ARV.
Taungurung is a First Nations group which has Registered Aboriginal Party status in Mount Hotham, Mount Buller, Mount Stirling and Lake Mountain alpine resorts. Kaley current Chair of the Taungurung Land and Waters Council, and has extensive experience in policy reform working with the Department of Justice and Community Service as well as City of Greater Geelong.
"The Taungurung have amazing knowledge systems, and we've been on and managed the land on and around these mountains for thousands of years," Kaley said.
"I wanted to be part of ARV to help to embed some of our Aboriginal knowledge systems to better care for, and manage, our mountains. With climate change it's become more important than ever to work as one."
Kaley is passionate about caring for Country, entrepreneurship, employment, and education – seeing these pillars as the key to strengthening the rights, position and outcomes of First Nations People. To support this, Kaley takes a consultative approach focused on ensuring that Elders are respected and elevated in decision making, that young people are empowered and have a voice, and that there are opportunities in place for future generations.
Part of Kaley's focus with ARV is improving accessibility outcomes for First Nations people so they can experience the mountains in snow season, rather than only in the green season.
In the green season you will find Kaley camping and hiking in the Victorian High Country. Kaley has a strong connection to Country and is raising two daughters to be proud and strong in culture. She is passionate about teaching others Aboriginal philosophies for connecting to the land and is committed to creating space for all people, seeing this as key to ensuring that more people share in the responsibility of caring for Country.
She is the co-founder and Director of Yilam, which sells ethically and sustainably sourced camping gear and on Country camping adventures.
Among her many achievements, Kaley holds a Bachelor of Arts (Politics and Policy, Sociology), has completed a Public Policy and Community Development Course, and holds a Certificate IV in Frontline Management and Certificate III in Business.
Kaley is also completing her Masters in Indigenous Business Leadership at Monash University Business School.
Page last updated: 19/04/23